​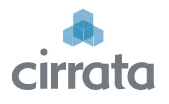 Your Trusted Technology Partner
Technology is evolving at a blinding pace, which represents both great risk and unprecedented opportunity for you and your business. In today's environment you cannot afford to go it alone or get it wrong. This is why our clients choose Cirrata as their trusted partner.
Companies value technology for what it can do for their company and customers. The most effective technology should be a silent contributor enhancing communication, facilitating growth and sales and improving efficiencies without adding confusion or overhead. Cirrata can provide these solutions in a seamless, uncomplicated and cost-efficient way.
Our Unique Service Model
We believe that the healthiest long-term relationships are built on a foundation of true alignment of interests. As such, Cirrata's service delivery model includes, no long-term contracts, no investment in equipment or hardware, and no hourly billing. We provide a simple, single price program that can be adjusted up, and down, based on the client's real-time requirements. With Cirrata you receive one monthly service fee and no surprises. You and your organization get the benefit of having trusted seasoned professionals that truly care.